Together, we can make Greenwood County
an even better place to live.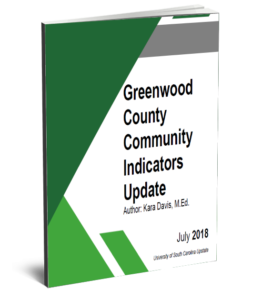 In 2014, the Greenwood Indicators Project was established through the collaborative partnership of the United Way of Greenwood and Abbeville Counties, Greenwood County Community Foundation, Self Family Foundation, Self Regional Healthcare, Greenwood SC Chamber, and Greenwood Partnership Alliance.
This partnership initiated a community survey and data report on the community to determine what the perceived needs are within the community and also compare our quality of life to other counties in SC, the state as a whole, and national averages.
United Way relies on this data to inform our decisions on where we invest the resources entrusted to us by the community.
In addition to reporting data, the project convenes community leaders to inspire dialog that results in the formation of a community plan to address needs.